Tropical Night in December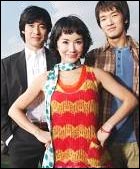 Several years ago, I spent six months of my life obsessed with a
soap opera
on the Spanish channel. I thought I was over this addiction to foreign language drama, but tonight I discovered that
KSCI (Channel 18)
is showing the conclusion of something that Yahoo's TV listings call simply "Korean Miniseries Drama." I checked out KSCI's website for more info and found this description:
"Tropical Night in December: In Korean with English subtitles - It's a story about a perfect homemaker and mother/wife/daughter-in-law who falls in love with a man who is terminally ill. She leaves her family for him but it turns out that he was just playing a "game" with her. It was a bet at her expense to fall in love with him b/c he was dying anyway."
That description is terrible, but the show is really good. There must be something in my brain that just loves the combination of foreign language and soap operas. One minute the young guy is on top of a giant hill yelling at God about how he's only 27 and he has a brain tumor, and then a few minutes later he's trying to convince this woman that they should die together because he's afraid to die alone. Oh, no, I thought it was ending, but then it got all slow-motiony as the young guy and her husband were fighting in a river, and I saw those dreadful words, "To be continued..."