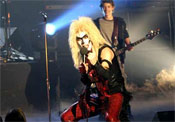 After a long and miserable day, I came home really down.
But I was immediately picked up by an encore presentation of the ABC-Family original movie
"POP ROCKS"
-- in case you don't know the film, it's like this. Gary Cole (the Dad from the Brady Bunch movies; and the boss from Office Space) plays a straight-laced banker and father of two. But 20 years ago, he was the front-man for a heavy metal band called ROCK TOXIN. Long story short, the band gets back together, he needs the money to pay for his daughter's college tuition, it's a crazy double-life, with plenty of 3's company moments.
The music rocks, the comedy is funny and Gary Cole proves that he's one of the most talented (and underrated) actors working today.
To learn more about fake bands like ROCK TOXIN, check out this site:
ROCKLOPEDIA FAKEBANDICA
They profile all the best fake bands from movies, TV and cartoons shows. Everything from The Be Sharps (on The Simpsons) to the Max Rebo Band (Return of the Jedi); from the Misfits (Jem and the Holograms) to Titanica (Mr. Show) -- it's all there.
If you'd like to watch more FAKE BANDS, rent some of these rockin' movies...
BEYOND THE VALLEY OF THE DOLLS
PHANTOM OF THE PARADISE
THE APPLE
(finally on DVD)