At Popcrazy, we love Mary-Kate and Ashley, but the main reason we wanted to see the movie Holiday in the Sun was just to hear the girls cover a Weezer song. And hearing "Island in the Sun" over the opening credits definitely got our hopes up.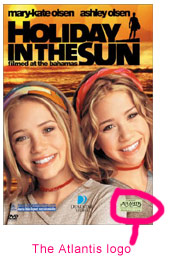 Wait, I should back up a little. The very first thing on this DVD, before the movie even starts, is a commercial for the Atlantis resort. If the logo on the cover of the DVD left any doubt in your mind, this movie was shot almost entirely within the Atlantis resort in the Bahamas.
After seeing eighteen beautiful panoramic shots of the resort (not counting the ones in the commercial or the special features), and watching the main characters jetski, go down several waterslides, parasail, horseback ride, scuba dive, swim laps, ride mopeds, go night swimming, ride banana floats, go snorkeling, and swim with dolphins, we were convinced it's a cool place to spend some time. But it's winter! Pretty much any tropical island sounds like a good idea.
Somehow amidst all the promotion for the resort, the writers managed to squeeze in a few shreds of plot. Here's a brief summary in case you forget who likes who:
Be sure not to confuse the love interests with Alex and Madison's dad, played by an actor who looks only a few years older. A good rule of thumb: If there's a guy in the scene, and neither twin is trying to flirt with him, he's the dad.
The classiest moments in this film were the brief Cyrano de Bergerac references. But somehow even that plotline avoids any conflict and quickly finds its way to a happy resort ending. The worst moment in the movie? As the closing credits scrolled up, the sounds of Weezer again filled the room, but it was still the original version! No sign of Mary-Kate and Ashley's perky voices. Maybe I've watched too many videos from M-K&A's "You're Invited" series, but when I heard they covered Weezer's "Island in the Sun" for this movie, I was expecting to see the girls dancing on the beach to a super-cute version of the song. Turns out, the cover isn't in the movie at all! And after a little more research (listening to soundclips on Amazon.com) it seems they only sing backup on a cover by a band called Empty Trash.
Unless you're Olsen-obsessed, skip Holiday in the Sun and watch Our Lips are Sealed again instead. You'll get wacky adventures, beautiful beaches, and best of all -- no ads for Atlantis.
--Lisa Beebe
1/17/02
Want more of the Olsen twins?
Read Encyclopedia Blonde, our review of The New Adventures of Mary-Kate & Ashley: The Case of the Flapper Napper.
Get the DVD, VHS, or soundtrack of Holiday in the Sun.
Get the DVD or VHS of Our Lips are Sealed instead (seriously, it's way better!)