It seems that I'm always coming up with scams to leave work to become a celebrity. Last year, while at work listening to Z100, New York's Number One Hit Music Station, I came across this scheme.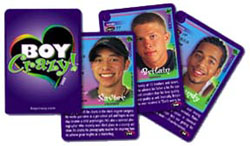 I heard an announcement saying that a trading card game for girls was going to be looking for 500 guys from around the country to appear in their game.
The game is called Boy Crazy. It is a trading card game that offers "real boys for real girls". Girls buy packs of cards and trade with friends to find their ultimate match. They can also vote and e-mail their favorites online at the Boy Crazy website. Boy Crazy also does promotional mall tours where they bring Boy Crazy favorites to meet their biggest crushes. It's a preteen dating game for the masses.
Of course I immediately left work to run over and fill out a survey. You know... the vital info. Favorite colors, movies, books, sodas...I laughed to myself at all the guys around me who seemed to be taking it so seriously. I questioned their motives as they thought hard to remember what their "best pick-up line" was. My answer to that question was "You remind me of Katie Holmes...and she's really cool."
After completing my survey I was summoned to the photographer's corner where he snapped about 6 shots of me -- Standing, sitting, smiling, etc. They told me that I would find out if I was one of the lucky boys or not in September. All the boys who were chosen would receive a full box of their own card.
I left feeling giddy at the possibility of being permanently printed in a national game and because I stole a set of sample cards to provide visual aids when I told the story of my experience.
At Popcrazy, we love to make dreams come true, so we created this fake card for Fred! (It's only available online, so don't bother looking in stores.) Check out the competition, and you'll be as confused as us -- why didn't he make the cut?
But that was not the end.
Several months later I received another Boy Crazy survey in the mail, this time with more in-depth questions. Have you ever been in a musical group? Have you ever acted professionally? I had answers for all the hot button topics that a girl would want addressed before she would contemplate going steady with a guy.
For months I sat in wait, wondering if I would soon receive a pack of cards with my face on them. Unfortunately, I never heard from Boy Crazy again. I'm sure eventually someone in the Boy Crazy office will find my picture and profile and realize I'm the guy teen girls all across America are looking for, but for now those mall tours will remain a distant dream. --Fred Flores


Want more info on Fred or Boy Crazy?
To follow Fred's adventures as he stumbles slowly towards celebrity, start with Part 1 of the Road to Stardom Journal.

For more on the fascinating game of Boy Crazy, visit the official website.


Top photo is from the the Boy Crazy website.