If Fred were chosen instead of Justin Timberlake...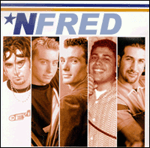 He might be the lead singer of a chart-topping boyband, and dating Britney Spears.

Before we were bombarded with Britney memorabilia, before Justin Timberlake's infectious afro, there was a happy place that was always jumpin', where pre-teens didn't have any worries -- the Mickey Mouse Club. Take a trip back in time with me to my first real audition.

Flashback to middle school, right before my twelfth birthday... I saw in TV Guide that the New Mickey Mouse Club was holding open auditions in my hometown of Dallas, Texas. I begged my parents to go and, after some convincing, they agreed. I rehearsed and practiced harder than I ever had before.

The day finally came. October 14. My hair was gelled, my acid washed jeans were pressed, and I had a brand new Gitano sweatshirt for the occasion. I waited nervously in line with hundreds of other children, all spruced up to be the next Fred Savage or Candace Cameron. Somehow my dad managed to get me closer to the front of the line. A lot of the other kids obviously knew the "audition game." They stood on line with their Gameboys, greeting each other like they were old drinking pals.

Finally, it happened, I was one of a group of twenty summoned into THE ROOM. The casting directors lined us up and asked us each one question. They asked me to introduce myself. I said my name and that it was my birthday (hoping it would win me some points). After asking each of us our question, they picked out a group of about seven and told us the order in which we would perform. I was second. I thought this was perfect; I would have time to collect myself while the first girl performed, but I wouldn't have to sit through the agony of watching every other act.

If Fred were chosen instead of Keri Russell...



We might be watching Ethnicity, the WB story of a guy who follows his crush to college in New York and finds an exciting new life.

Then, fate dealt me a bad hand. The first girl's music wasn't cued right and she got all frazzled. I had to go first. It wasn't fair! I wasn't ready! She should have gotten her shit together and performed. This is show business, you don't get any second chances! I stood in the middle of the room shaking as I sang "Wind Beneath My Wings." I paced nervously, trying to remember my choreography, as the casting directors smoked cigarettes and looked the other way. I wanted to yell "It's not fair, I was supposed to go second!!" but I kept on singing.

I finished and waited for them to hand me a contract, or at least tell me they knew I would have been better if I'd gone second. They looked me straight in the face and said "Don't call us, we'll call you." I became the victim of a trite show business cliché. At that moment, I decided I would never work for Disney. Well, I guess it depends... They could probably convince me if it was some big event with BSB or the A-Teens... Wait, I'm getting off topic.

Today when I look at the plethora of teen stars who got their start in the Mickey Mouse Club, it's funny to wonder what might have been if only I had been able to go second. I could be on tour like Britney or 'N Sync. I could be starring in my own sitcom on the WB. Oh well. At least I can still go to the mall in peace, and the only rumors out there about me are the ones I start myself.

--Fred Flores

The story continues...
Read Part 2 of the Road to Stardom Journal to learn what happens when Fred auditions for Making the Band.