After years of anticipation (and crying over sold-out tickets), on December 11, 2003, we finally had the chance to attend a Z100 Jingle Ball! That's all it took to convince us that Z100 throws the best Christmas concerts on the planet. Here's a musical countdown describing a few highlights of the show.

Lots of 12 year old girls in the audience.

11 musical performances (if you count the one by Jessica Simpson and Nick Lachey, who were technically present in a hosting capacity.)

10 "queer eyes" on stage (the five guys from Queer Eye for the Straight Guy made an appearance.)

9 pre-teens in front of us, screaming their hearts out when an image of Clay Aiken appeared on the video screen. (No, he wasn't really there, but the audience got more excited about a quick video image of Clay than they did about Kelly Clarkson's live performance.)

8 of our favorite songs!

7 free gin & tonics (VIP passes rock!)

$6 on cotton candy that was almost as sweet as hearing Michelle Branch live.

5 singers/actresses (J. Lo, Beyonce, Hilary Duff, Jessica Simpson and Kelly Clarkson)

4 minutes with Mr. Whipple. We ran into this NY1 celebrity in the hallway, and have the phone cam pictures to prove it.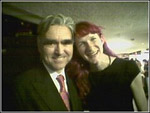 At least 3 lads a-leapin' (Sean Paul and two of the guys from Simple Plan)







2 bands with numbers in their names (Matchbox Twenty and 3 Doors Down)

The Z100 Jingle Ball: 1 rockin' Christmas show!

--Lisa Beebe and Fred Flores
12-12-2003

Images: Z100.com