MTV's half-hour soap, "Spyder Games," has all the elements of a great guilty pop culture pleasure! Set in the small college town of Fort Kent, this fledgling series has suspense, intrigue, romance, and most of all -- mystery.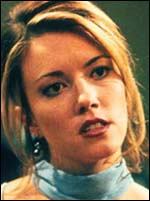 Spyder Games is different from the typical American soap in that it has a sixty-five episode "season." This resembles a Latin American soap, or "telenovela," rather than the soaps we are used to seeing today. This set number of episodes allows for careful crafting of each individual installment, so each episode furthers the plot, unlike many conventional soap operas.
At the heart of all the drama is a murder mystery featuring the Carlisles, Fort Kent's richest and most prestigious family. The backstabbing brood owns a video game company that shares the name of the soap. Old Boris Carlisle, patriarch of Spyder Games, ruled his domain with an iron fist until he was killed in a car crash in the first episode. And everyone seems to benefit from his demise! His favorite son Dmitri is determined to get to the bottom of it all, and as each new clue is uncovered, Spyder Games hurtles towards its first season finale, which promises to be shocking!
Add in a gay son (Ivan) whose secret sexuality and marriage is threatened as his wife (Julia) gets hooked on crack, another son (Sasha) who's involved with a vixenish older woman (Taylor) while oblivious to his best friend's (Cherish) crush on him, and a ruthless daughter (Natalia) who mysteriously inherited president status from her hated father, and you've got a tangled web of deceit that any viewer would be hard-pressed not to enjoy. Although the show's convoluted plot may seem daunting to a new viewer, each episode opens with a quick recap of previous key episodes to help you out on what you missed. Even better, each episode ends with a sneak peak at what's to come!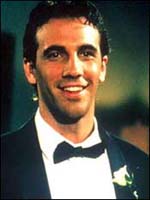 Besides its intriguing mix of mystery and suspense, Spyder Games also mixes in various fun pop cultural references into the dialogue, like when Natalia comments on her brother Ivan's therapy to "cure" his homosexuality -- "What, how's she gonna "cure" you? By showing you naked pictures of Richard Hatch?!"
Spyder Games never fails to drop a soap opera reference poking fun at itself somewhere in the episode. Daphne, the innocent owner of "Come Ons" (her fashion boutique), tells her manipulative best friend Taylor, "Oh, this is all so great! Nothing can stop Dmitri and me now! Wait a minute, that's what the naïve girl in the soap always says right before she gets flattened by her jealous rival!"
Taylor smirks in the background.
Check out Spyder Games every weekday while you can, because you know how fast MTV likes to change its schedule. It's great fun to watch, and who knows? Maybe you'll get caught up in its web! --Brian Pietras
8/10/01

Photos are from the Spyder Games site.