| | | |
| --- | --- | --- |
| This summer, Disney's Pirates of the Caribbean was celebrated as "the year's best movie based on a theme park ride." But wait! The year isn't over yet. Before you buy tickets for The Haunted Mansion, here's a sneak-peak at some other upcoming ride-based blockbusters: | | |
AN AMERICAN CYCLONE This nostalgic look at Coney Island's 76-year-old roller coaster is bound to appeal to the Seabiscuit crowd or anyone who romanticizes the Great Depression. Expect award-winning performances from Glenn Close, Jon Voight and Donald Sutherland as the voice of the Shmoo.
FREAKY TEA CUPS David Schwimmer and Jonathan Lipnicki reinvent the father-son switching movie when they magically trade bodies with the Hershey Park tea cup ride. This fun-for-the-whole-family comedy includes the new single "Tea Cup Twist" by American Idol's Justin Guarini.
DRAGONLICIOUS If you like musical adventures that feature a rapping cartoon dragon, then this is the direct-to-video release for you! Based on Rye Playland's Dragon-coaster, this 71-minute movie has it all: break-dancing wizards, boxing balloon animals and a mail-in rebate. It's coming soon to a Walgreens video section near you.
LOG FLUME 4000 In a future where the earth is covered with water, the only means of transportation are hollowed-out logs. Can one Busch Gardens security guard (Vin Diesel) defeat the evil warlord (Christopher Walken)? Count on Jerry Bruckheimer to deliver the greatest log-flume chase scenes in cinema history. The Flume begins on December 18th.
THE CORKSCREW MURDERS This crime drama has little to do with Astro World's Corkscrew ride, except that halfway through the movie, it suddenly stops, and then you re-watch the whole thing backwards. Unlike the original ride, you won't get nauseous - because it stars Denise Richards and Colin Farrell. Hubba-hubba!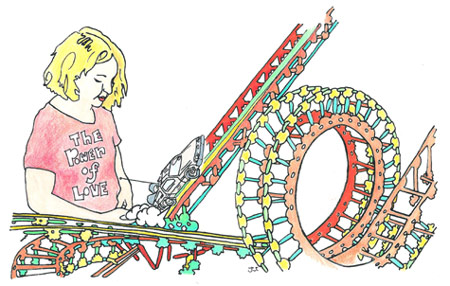 BACK TO THE FUTURE: THE RIDE: THE MOVIE Like a novelization of a movie that's based on a book, this is the first feature film inspired by a ride that was adapted from a movie. Scott Wolf stars as Marty McFly, who travels to the Ice Age and the future for some reason or another. The soundtrack includes Huey Lewis singing a cover of the song he recorded for the first film.

--Kevin Maher
Illustrations by Julie Silvestri
10/14/03