They're Singing Their Hearts Out,
But Do We Really Care?

Americans will do anything for fame. We will give up our privacy (à la Real World), our conveniences (Survivor), and our pride (Jerry Springer), all in the hopes for some temporary warmth from the media spotlight. Perhaps the light will shine on us long enough that we will find a new life amidst the beautiful and elite. Perhaps we can become the popular ones in the vast high school of America. The possibility of breaking out of an ordinary existence creates a pull so strong that even the least talented girls see a Britney video and come out in herds awaiting their chance to shine... their chance to be Popstars.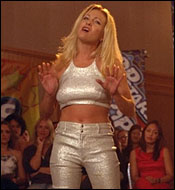 Love those pants!

Following in the dancing footsteps of the reality based Making the Band, the WB's Popstars follows the formation of a five part all girl group. We at Popcrazy love pop and the possibility for any average person to put on pleather pants and sing Lee Ann Rimes music, but the thing is -- we don't necessarily want to watch everyone in the world do this.

The premiere of Popstars was not an exciting experience. Too many tube tops and too little talent pretty much sums it up. Obviously the producers only had acquired rights to certain songs so we were stuck listening to warbly amateur renditions of Christina's "What A Girl Wants," Whitney's "I Will Always Love You," Macy Gray's "I Try," LeAnn Rimes' "How Do I Live," and an occasional and always wretched performance of Enrique Iglesias "Rhythm Divine."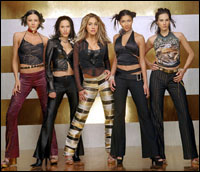 Besides Ivette, they all look the same.

The director and editors of this show know nothing about creating tension or the element of surprise. For example, they would follow around specific girls so you knew exactly who was going to get picked. And when they announced who was getting called back, the camera only focused on one girl so you knew that she had to be the one who was going to get it.

The show showed us the behind the scenes process of "casting" a pop group. It emphasized the fact that looks count and that talent is only optional. They said that girls should always be prepared at an audition, and then broke their own rules by selecting girls who had messed up. Hmmm...double standards, decisions based on looks, snooty casting directors, and thousands of girls with one dream and a whole lot of tears...it sounds like Popstars has all the elements of a hit show, but somehow it still falls flat as soon as the cool opening sequence is over.



Strikin' a popstar pose.

The difference between this show and Making the Band is that Making the Band was more interesting to watch. Let's reflect. Making the Band took eight young men and forced them to exchange their masculinity for tight shirts and ridiculous choreography. They exchanged all of their testosterone for the chance of becoming a hit. Girls are supposed to be girly and dance and be all cute, so with Popstars you don't get the irony. And the irony is what gave Making the Band its edge. With that edge came a cult following. The only following that Popstars is going to get is the families of the girls who made the band. If you want to watch a show about teen girls who want to be stars, forget reality TV! Instead, watch Disney's S Club 7 or Nickelodeon's Taina.
--Fred Flores

Pictures are copyright © 2001 The WB Television Network
and are from the official Popstars site.