Back in the day when Jennifer Lopez was just another girl late for biology class, there was another Latina superstar, Lisa Lisa.
Accompanied by Cult Jam and Full Force, she took over the airwaves in the early eighties, with a string of pop hits including "Head to Toe," "I Wonder if I Take You Home," "Can You Feel the Beat," "Lost in Emotion" and the powerful ballad "All Cried Out." Her style and sound laid the foundation for what was to become known as the Latin Freestyle Movement; a sound that encompasses funky beats and melodies intertwined with powerful club-ready vocals.
I recently had the honor of seeing Lisa Lisa perform live at Manhattan's Latin Quarter. She entered the stage confidently, dressed in shiny skin-tight gold pants, a gold bikini top and a hip black trench coat. She began to sing "Can You Feel the Beat" and the crowd went wild. Three dancers accompanied her, playfully competing for her attention as she sang.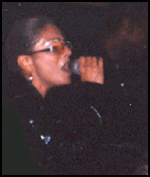 When Lisa finished her first number, the love from the audience could not be silenced. The screams continued and she blushed. She jokingly said, "For all the young ones out there, my name's Lisa Lisa." Despite anyone's age, it seemed that the entire audience knew each lyric.
Lisa continued with her song "I Wonder If I Take You Home." This was a particular favorite of mine because since I was near the front of the stage, she grabbed my face and sang to me, as the audience wondered who I was.
Later in her performance she quietly stated, "You heard the cover, now hear the original." Then she began those bittersweet lyrics...
All alone on a Sunday morning
Outside I see the rain is falling
Inside I'm slowly dying
But the rain will hide my crying
Everyone listened as Lisa enchanted the audience with "All Cried Out", the beautiful ballad that perfectly showcases her amazing vocal range. As the audience looked on, a woman in the front screamed in support, "You still got it girl!" And you know what? She does. Lisa's performance that night was exhilarating. I left that night singing her songs and they continue to echo in my mind.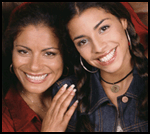 Now Miss Lisa Lisa is getting the chance to introduce another of her talents to a whole new generation. She is currently starring as Gloria on the new show Taina, which airs on Nickelodeon, Sundays at 7:00 PM EST. The show revolves around a 15-year-old girl named Taina who dreams of becoming a star. Lisa plays Taina's mother. Lisa says Taina's stories are similar to her own life since she grew up in New York with big dreams, like the character of Taina. She told a reporter for the New York Daily News that "There's one episode about Taina's quinceañera -- that's the traditional party [Latinos] throw to celebrate Sweet 15 -- that reminded me so much of what happened with my Sweet 15 that it's scary."
Taina is a popcrazy fave. (It's a teen comedy with music videos. Who wouldn't love that?) I also managed to find out that Lisa Lisa is planning on releasing a new album in the near future, and trust me, popcrazy will be the first to get it. We grew up to her style and sound and we're never gonna let it go. And now when she asks, "Can You Feel the Beat Within My Heart?" we have an answer: Yes, Lisa we can, and the beat goes on.--Fred Flores
2-2-01