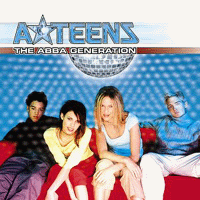 Lay all your love on them.

Super Troupers:
More Than Just A Cover Band

What do you get when you mix choreography, four Swedish teens, and new versions of classic Abba songs? The A*Teens!

This quartet of unstoppable pop is made up of four Swedish teenagers (two guys, two girls), just like their predecessors. However, these European stars weren't even born the first time someone belted out "There was something in the air that night, the stars so bright, Fernando..." Despite the difference in years, the A*Teens manage to capture the essence and spectacular nature of their forebears, while adding a glossy new beat.

Recently, I had the opportunity to meet the foursome in the teen pop capital of the world, Orlando, Florida. They were getting ready to record a television concert for Nickelodeon and I happened to know one of the producers of the show, so getting backstage wasn't a problem. I showed up in a homemade t-shirt that said A*Teens Rock. I was backstage by their dressing rooms and I got to see them rehearsing and putting on make-up. It was weird when I first saw them because I instantly turned twelve and was like "Oh my god! They're two feet away!" Despite the urge to run over and be obnoxious, I waited to be properly introduced. A little later as they stood by the stage door, I got introduced to the A*teens. They each shook my hand and stated their names: Sara, Dhani, Marie, and Amit.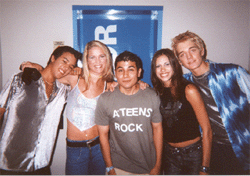 Amit, Sarah, me, Marie, and Dhani.

They said that they liked my shirt and that it was really cool. I was surprised that they were taller than me. They were really nice and I took two pictures with them since I blinked in the first one.

After that they ran out to perform the show. I stood on the side of the stage as they sang Dancing Queen dressed in these karate robe things. During the performance, they looked over at me and threw me smiles and nods. How could I not be a fan forever after such considerate acknowledgements? When they sang the line in Super Trouper about "Somewhere in the crowd there's YOU," I thought, "They are singing that to me! They really are."

So now I am a forever fan of the A*Teens. They are super nice and really good dancers. I can't wait for their new release, which will be all original music. It will be exciting to hear new material from the A*Teens that allows them to develop as their own group and further prove that they do have the talent and personality to be more than just a cover band. --Fred Flores